Restaurant for anorexics
May 5, 2005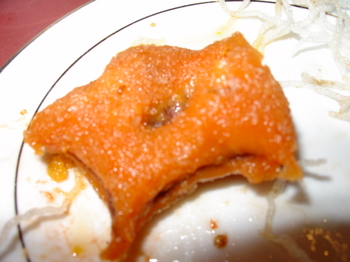 Sehnsucht, (means longing in German) is the name of a Berlin restaurant for anorexics. Owner Katja Eichbaum, formely anorexic, started this project with private funding (only her father would lend her money) as a therapy for her own condition. The chef is anorexic as are several members of staff. Sehnsucht's menu items have names that don't include words for food to avoid confronting anorexics with the fact that they are about to eat. 'Hallo' (lobster bisque), 'Pirate's Eye' (2 fishfingers and a fried egg), and 'Heissehunger' (ravenous hunger = rack of lamb) are all dishes that non-anorexics might order in 'normal' restaurants. But one item on the menu consists simply of a fork, knife, and an empty plate. It is titled 'Thieves Platter' and facilitates the anorexic diner to steal (or share) from those dining with her.
As expected the restaurant has received a huge amount of international publicity. And although I have not yet eaten at there, relying solely on restaurant reviews to inform myself, if Sehnsucht is an attempt to create a location for anorexia patients in the guise of a regular restaurant for the people that love them, it is also a wasted opportunity.
Why not revel in anorexia? Why not serve food items so refined and 'stretched' like anorexics themselves create on the spot each night at the family dinner table? Anorexics are master chefs and food stylists when placed in the harsh context of the family; hardboiled eggs with the yolks surgically removed, crackers deconstructed so that their total surface area has been increased twenty-fold, slices of bread with each visible grain extracted and displayed on the edge of the plate, utterly dissected broccoli. I say this without having seen Sehnsucht's menu but hope sincerely that it is not just another do-gooder resto in which the real food on the menu functions only to lure the paying and eating guests.

Listen to this story from NPR (National Public Radio).
debra at 8:38 | | post to del.icio.us
12 Comments »