Made in Transit,
growing food
in a waste of time
July 10, 2007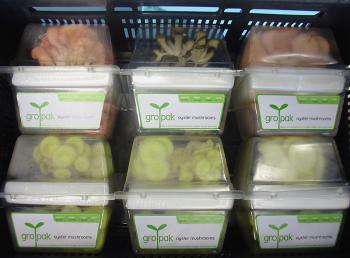 Mushrooms of the future are grown in situ in transit
When it comes to the food supply, there's a lot of waste to go around. Agata Jaworska, a recent masters graduate from the Design Academy Eindhoven, has designed a way to use the time and space associated with transportation to grow fresh produce. Jaworska analysed the supply chain of a mushroom, and through a systems intervention was able to eliminate all of the steps that were not productive. She turned the packaging + the freight truck + the normally wasted time and space into a mushroom farm, in a total supply chain redesign, merging production with distribution.

Made in Transit animation by Agata Jaworska and Seton Beggs used entirely with permission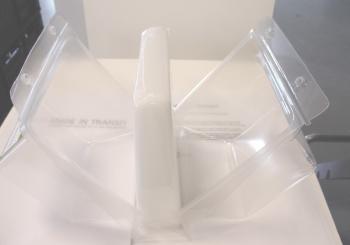 Prototype bio-degradable packaging cum growing medium innoculated with fungi spores
In her thesis Jaworska points out that transportation is normally a dormant time for produce. The food becomes trapped inventory and a lot of energy must be spent keeping it fresh. This means that the distribution system must be fast and the environment must be cool. But freight trucks aren't the least bit cool. In fact they generate a lot of warmth en route, and that warmth is just what a growing mushroom needs most aside from darkness. In the Made in Transit concept, the need to heat the cool environment of the traditional mushroom farm is eliminated and the warmth naturally produced by the transport vehicle is used to do the growing.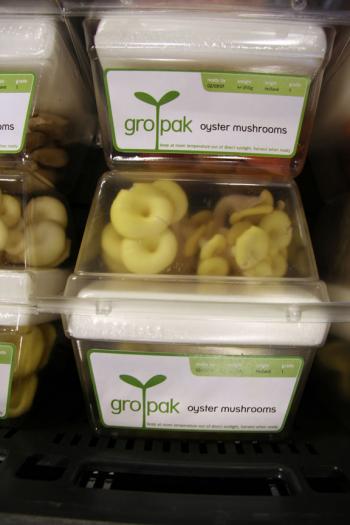 Oyster mushrooms of the future travelling first class, image by Agata Jaworska used with permission
Jaworska notes that what used to be simple packet distribution is now evolving into a completely new field. Her thesis is riddled with examples from companies like UPS, DHL, FedEx-Kinkos and the shipping company Maersk, that are becoming involved in the production of goods along the way, stepping outside the traditional boundaries of distribution.
The burning question is of course which commodities can best benefit from the Made in Transit concept. At the moment the (agricultural) University of Wageningen is chomping at the bit to develop this process further with Jaworska. In the dog-eat-dog world of Dutch mushroom farming, magically transforming freight trucks into (let's just be naïve) organic mobile farms, eliminating the need for independent growing spaces and (ahem) labour, is nothing short of a paradigm shift.
Press release freely translated from the Dutch: Master Pieces 2007. Seven freshly graduated masters from the Design Academy Eindhoven's department, Conceptual Design in Context, will be showing their work at the droog-at-home design gallery on Staalstraat 7a-7b in Amsterdam on July 10, at 18h. Free drinks. Just kidding.
Agata Jaworska can be reached at agata at agatajaworski dot com
debra at 16:43 | | post to del.icio.us
7 Comments »