New digs in the polder circle
June 26, 2008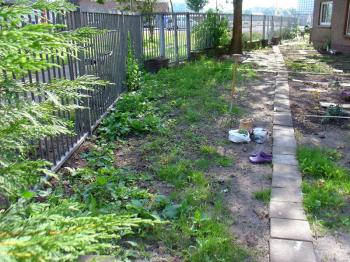 As of yesterday I became a multinational allotment holder. These are my new digs at Amsterdam Noord, a 7 minute bike ride from my flat, a 3 minute ferry ride from the mainland, and 4 steps off the ferry. Although the parcel seems to have some extreme shade, soil compaction and charm issues, the upside is that it's close enough that I can garden in my pyjamas, which is known to decrease stress. Now that I have 2 allotments 1.400 kilometers apart, I can neglect them both equally.
In real life this allotment is part of Toine Klaasen's Reserve / Reservaat at Young Designers and Industry HQ. Klaasen divided the 500m2 of virtually unused garden into 24 allotments and doled them out to us artsy-fartsy types as personal space. What this ultimately means is that I can potter in my pyjamas and that I will unlikely create kafuffles with my Permaculture Plus gardening style.
Upon arriving yesterday I dispensed with the observation phase required in permaculture and dove directly into the occupation phase, planting butternut squash and purple basil seedlings. Today I'll get started sowing my beloved green manures and investigate what it will take to install some raised beds in September. The only abundant in-situ building material for the beds seems to be 20×20 cement tiles and I think that 20 cm high beds can't in all honesty be referred to as 'raised'.
debra at 14:44 | | post to del.icio.us
No Comments »